Turnips are easy to grow and produce tasty roots and the savory green tops. Turnips are easily incorporated into salads, soups, and steamed or sauted vegetables.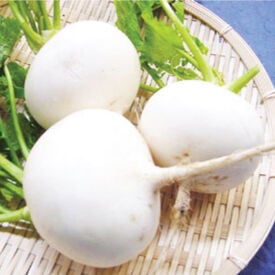 The Seven Top is a tender, round and beautiful white globed turnip variety that produces consistently for a long period! This turnip is the best variety for producing masses of fine-flavored, old-fashioned, turnip greens that makes the ultimate southern staple!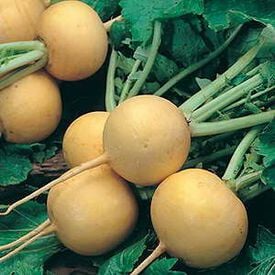 The Golden Ball Turnip is a perfectly round, beautiful, eye catching golden turnip with a deliciously wonderful peppery taste! This turnip variety was introduced prior to 1859 and is still going strong! This is one turnip that you will want in your garden for its perfectly shaped 3-4" amber globes.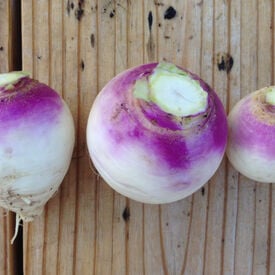 The Purple Top White Globe Turnip is a beautifully purple and white colored turnip that is the best tasting turnip around! This turnip variety has a fine grained root that can grow as big as a baseball! The popular Purple Top White Globe is an excellent yielding turnip that is a great fall crop that gets even better with cold weather.