Ratibidas are such an unique and attractive wildflower. The flowers have a tall cone in the center of the head surrounded by downward dainty petals. These flowers are the perfect choice for hot and dry areas.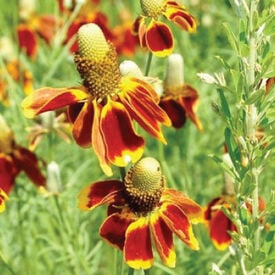 The Mexican Hat Ratibida is a very unique looking and fast growing perennial flower that is very easy to establish from its seed. This variety gets its name for its blooms that are sombrero-shaped, with red to yellow petals drooping down, and a central brownish red cone. The Mexican Hat is drought tolerant and is a great source of nectar for beneficial insects, and the Ratibida plants are deer resistant.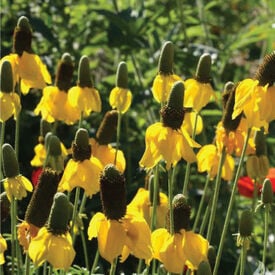 The Prairie Coneflower Ratibida is a beautiful meadow wildflower that produces an abundance of beautiful, vibrant yellow petals. This breathtaking variety is known for growing wild in the plains states. The Prairie Coneflower gets its name for its yellow petals surrounding tall cones. This flowering plant produces light-green foliage that creates a beautiful backdrop for the textured blooms.