Organic Cucumber Seeds
Additional Characteristics
Urban Farmer's variety of organic cucumber seeds are selected by yield, shape, flavor and disease resistance. Cucumbers range in many different colors, shapes and sizes. Our organic cucumbers are perfect for slicing, pickling and fresh eating. Choose form our wonderful organic cucumber seed selection that will do well in any home or market gardens.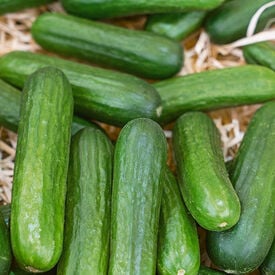 The Muncher cucumber plant variety produces a smooth nearly spineless, medium green cucumber that is crisp and delicious. This low acid favorite is now available in organic seeds. The Muncher is mosaic resistant and produces heavy yields. The taste of this cucumber is non-bitter and very tender. It can be pickled when young or eaten fresh once it reaches 8-10 inches long.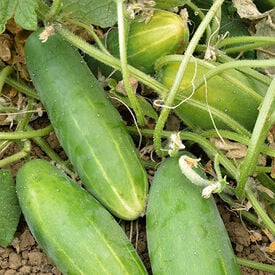 The Poinsett 76 Cucumber is a great slicing cucumber, as it is delicious cut up in salads or on sandwiches. This cucumber variety produces thick beautiful dark green fruits. The sun-loving Poinsett 76 will get to be 6-8 inches long when mature. This organic favorite is resistant to most cucumber diseases such as downy mildew, powdery mildew, angular leaf spot and anthracnose.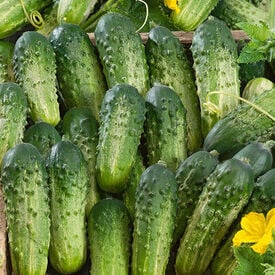 The Sumter Cucumber is a favorite amongst many home gardeners and market growers for being a great slicer and pickling cucumber. This cucumber variety is a blocky medium-green fruit with white spines. The Sumter is well adapted for many different climates. This organic favorite is disease resistant.