(Salvia officinalis) Sage is a shrubby herb that has beautiful dusty green leaves. Sage leaf is most commonly used in dressings, meats, sauces, and tea. Also the medicinal properties help with colds and for aiding digestion.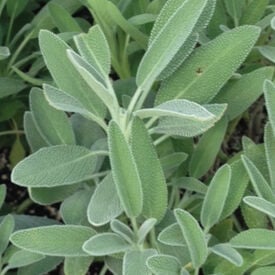 The Broadleaf Sage is grown mainly for seasoning rich meats and sausages, as well as carrots, tomatoes, squash, corn and potatoes. This Sage has fragrant gray-green leaves and spikes of purple flowers.
Vary aromatic and white-green leaves. White sage has many herbal uses.