Just like their name, Four O'Clock, these beautiful plants bloom late in the afternoon. These versatile flowers are very fragrant, making them a popular choice. Four'O'Clocks are easy to grow in either patio containers or garden beds. These flowers love full sun and can be enjoyed late summer through fall.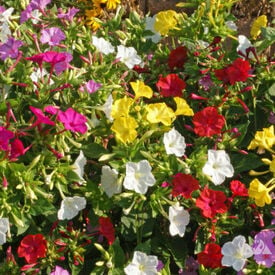 The Four O'clock Formula Mix will create a statement in any garden, blooming in all shades of bright pink, red, yellow and white. This variety is an annual, but the roots can be lifted in the fall, stored during winter, and re-planted the next spring.
The Four O'clock Tall Mix is a wonderful combination of beautiful and easy to grow white, crimson, violet, and yellow flowers. This variety is named for its characteristic of blooming tall flowers and giving off a beautiful aroma after 4pm. The Tall Mix will grow great in barrels, tubs, and large pots.