Nemophila is a very versatile wildflower! This beautiful flower is perfect as a groundcover, in a container or garden bed. This small beauty loves the sun and must be kept moist in order to thrive.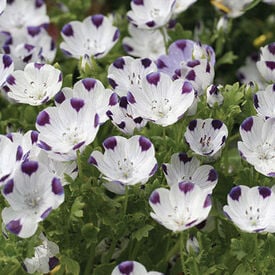 The Five Spot Nemophila creates a beautiful carpet of many, unique white and purple blooms that is really a stunning sight to see. This variety is an annual wildflower that easily and quickly grows from its seeds. The Five Spot grows fast and blooms profusely, and then it dies back with the first frost of fall. This variety may re-seed itself if the seeds fall on bare ground.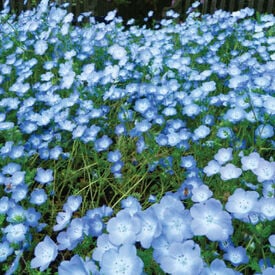 Baby Blue Eyes Nemophila is a quick growing low carpet blooms that fade from dark blue to sky blue centers and is often seen in the blooming in spring. This variety is an annual that is a profuse bloomer of simple flowers. The Baby Blue Eyes is known to re-seed itself for a display the following spring.