Eutrochium, or Joe Pye Weed, is an easy to care for versatile plant! The tall stalks with small blooms are bushy, yet light and soft. This plant is a favorite in a garden bed or border, spread out like a wildflower or as cut flowers. Eutrochium flourishes in full sun and is well-branched, reaching 2-4 feet wide.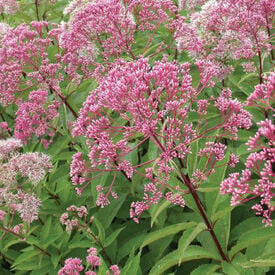 The Sweet Joe Pye Weed Eutrochium is easy to grow and its vanilla-scented flowers are irresistible for Monarchs, Swallowtails and many other butterflies. If you want to attract butterflies to your garden, this is the plant variety for you! The Sweet Joe Pye Weed can reach up to 7 feet high and does great in shady locations. This beautiful flower blooms pale pink to pale purple flowers from July to September.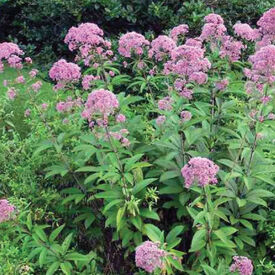 The Joe Pye Weed Eutrochium is a very popular, attractive, sun-loving and tall growing plant that can grow to be up to 6' tall! This variety produces very strong stems that support its flowering body. These attractive stems are almost the same color as its dusty rose-colored flowers, which will bloom from June to August. When in bloom, these beautiful blooms will attract butterflies galore. The Joe Pye Weed grows aggressively, so plant in larger areas.