Collards
Additional Characteristics
A southern favorite that is popular in Southern cooking. A tasty treat both cooked and raw. Collards flavor is enhanced by cool weather making it taste even better grown during a Northern fall.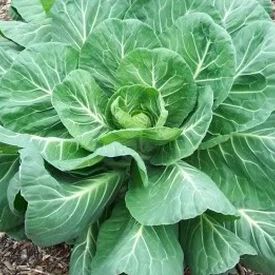 Georgia Southern is a large collard plant with a cabbage-like taste! This variety produces bluish-green leaves that can grow up to 36" tall and do not bunch or head like cabbage leaves. These large open heads are great for cooking or freezing. The Georgia Southern collard is vitamin rich, sweet, not bitter, heat tolerant, and frost hardy.
The Champion collard is a tasty improved Vates selection! These large, dark green, cabbage-like leaves retain eating quality for up to 2 weeks or longer. Champion is a compact collard plant that has an increased bolt resistance and enhanced winter hardiness, truly making it a champion!
Vates is one of the highest yielding collards around! This collard variety produces dark green leaves that are very delicious. Vates grows to a height of 30" and is very slow to bolt.