At Urban Farmer, we have chosen the best varieties of organic cabbage seeds that produce heads that are great for fresh eating, canning and long-term whole head storage depending on the variety. Cabbage is a hardy vegetable that comes in different colors, such as red, green and white. We make sure that all of our cabbage is great tasting with a sweet flavor crisp texture. and Our organic cabbage seed varieties can be used to make sauerkraut, coleslaw, wraps and stir-fries.
The Green express is a bright green mini cabbage with excellent flavor! This favorite is now available as organic. The early maturing cabbage has a mild flavor and crisp texture that can't be beat. The Green Express can be sown directly in Fall gardens or transplanted in Spring.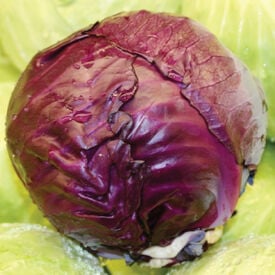 Early and adaptable red cabbage. Great for all gardens! This open-pollinated purple-red cabbage produces dense oval heads weighing 2 to 3 pounds. Certified Organic. Learn more about our organic seeds.