Urban Farmer's onions are chosen for shape, color and taste. We select onions are easy to grow and take up little space in the garden. Onions add that extra kick to any homegrown meal. Our selection of organic onion seeds are the perfect addition to any garden, home or market.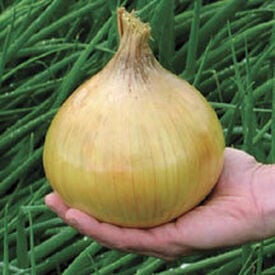 Ailsa Craig Exhibition is a large onion that has a unique mildly sweet flavor! This plant produces on the average a huge 5 lb. sweet white onion that has a delicious flavor in many dishes. Impress your neighbors and try growing this World Record sized onion.
The Texas Early Grano Onion has a nice sweet flavor that is a favorite among home growers! The vidalia-type onion is now available in organic seeds. The white flesh is crisp and not too pungent. This short day onion variety is very disease resistant which makes it very popular for home growers and market growers alike. Certified Organic. Learn more about our organic seeds.