Impatiens are annuals that love the shade! These plants bloom bright, bold colors that adds a pop to any shady area in your garden. The easy to care for flower does well in patio containers, hanging baskets and even indoors. Enjoy these beauties within 3 months of planting fro seed.
The Tom Thumb Impatien is a beautiful extra dwarf variety that makes a very attractive addition to any border or flower bed! This variety is a wonderful dwarf impatien that grows no higher than 12 inches. The Tom Thumb has a good tolerance for drought conditions and does great in containers.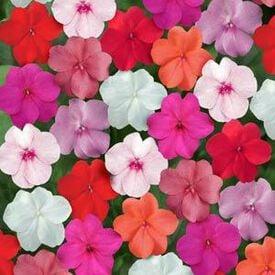 The Super Elfin Mix Impatien is a tried and true variety that offers an improved yield potential of an array of stunning flowers! All of the flower lots must pass strict standards, producing a 95% usable plant stand at 9 days.