Organic zucchini seeds for home gardens. Grow and organic garden with our organic zucchini seeds and plants.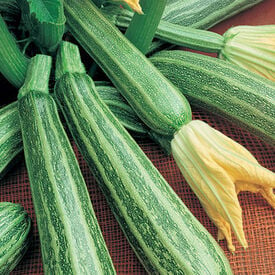 The Italian Cocozelle is a bush type of squash plant that produces high yields of the long, tender, dark green fruits. This Italian zucchini is very flavorful and tender and a favorite that is now available in organic seeds. This variety is best when harvested at 12" long or smaller. The Cocozelle is excellent for slicing, frying, and steaming and is also a good freezing and canning variety. Pick often when the squash is young to prolong harvest. Harvesting zucchini when it is young and tender offers the best flavor and eating quality. See the second picture for what the inside should look like when harvested. Certified Organic. Learn more about our organic seeds.
The Ronde De Nice is a delicious French heirloom zucchini that is known for its flavor and tenderness! These round little summer squashes are the perfect zucchini for stuffing or roasting. This bush plant is also a wonderful producer for home gardens. Enjoy the light green globes with creamy yellow flesh in any dish. Certified Organic. Learn more about our organic seeds.