Organic Eggplant Seeds
Additional Characteristics
Urban Farmer's selection of organic eggplant seeds are easy to grow and produce high yields of delicious and nutritious fruits. Eggplants have beautiful purple flowers and large attractive glossy fruits that add a gorgeous pop of color to any garden or dish. Perfect for growing in a home garden or for market use. Our organic eggplant seeds are chosen for their flavor and appearance.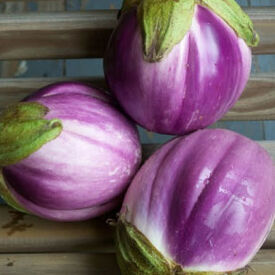 The Rosa Bianca eggplant is a light pink and white marbled eggplant with an excellent flavor! This eggplant is an old Italian heirloom that is 4-5" round with a mild flavored creamy flesh that This variety is adapted to warm nights. The Rosa Bianca is a great cooking variety, making it a wonderful addition to roasts or stews! Certified Organic. Learn more about our organic seeds.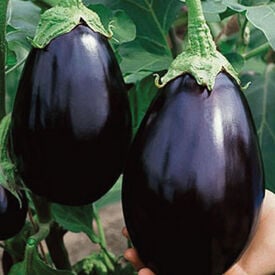 Black Beauty is an early variety eggplant that has been a staple for over 100 years! This hardy favorite is now available in organic seeds. Known as the common market eggplant, it can get up to 1-3 pounds. This tasty organic eggplant is high yielding and will hold its color and flavor well. Enjoy the Black Beauty roasted on salads or as a meat substitute. Certified Organic. Learn more about our organic seeds.