Hollyhocks are beautiful little old-fashioned plants that add bright colors to any garden. These plants bloom all summer long and will attract butterflies and bees to your garden. These compact plants can grow in a patio container, in a flower bed or spread among a wildflower garden.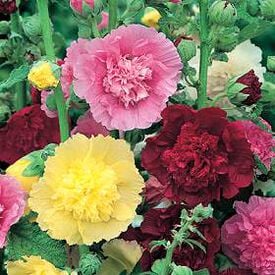 Carnival Mix comes in 4 vibrant shades, with big semi- to fully-double flowers that arise all along tall, sturdy stalks beginning just 4 months from sowing. An annual Summer Carnival Hollyhock is a long-blooming, very colorful series so garden-worthy that it received an AAS Award. Tall and stately, it blooms all summer for a rich display of big powderpuff blossoms in every shade of pink, rose, red, and yellow.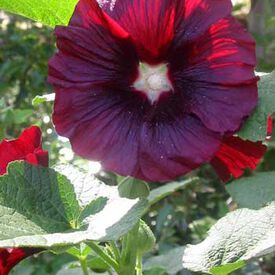 The Queeny Purple Hollyhock is an All-American Selections winner that has great sturdy stalks that won't fall over. The shortest Alcea rosea and the first purple available as a single color. Use this plant for a dense hedge of season-long color.