Alyssum flowers are low lying plants that spread easily. This flower is very carefree and drought tolerant. The sweetly fragrant Alyssum flowers attract butterflies to the garden and are great for flower beds, borders, or in containers.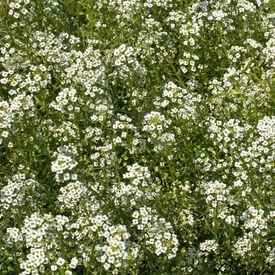 The Sweet Alyssum produces hundreds of tiny, snow-white flowers on spikes with a fragrance just like honey, making it a beautiful addition to any garden! The 18" tall plants can be tucked at the edge of borders, or along walks. The small, compact size of the Sweet Alyssum makes it excellent for window boxes or in pots -- anywhere its sweet scent may be savored! This variety is also great for attracting beneficial insects, like butterflies and bees.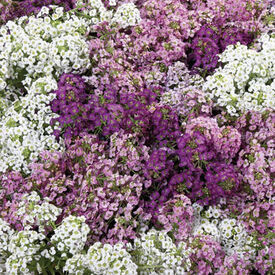 The Wonderland Alyssum is an award winning variety that produces beautiful and fragrant blooms that will add a delicate pop of color to any garden. This variety is dwarf and very uniform in habit. The Wonderland Alyssum has a consistent bloom time.