Our Beginning
From a small beginning back in 2008, founder Noah Herron, at the age of 25 started Urban Farmer in a small farmhouse in Indiana. Gardening and seed saving were not new to Herron. From a small age in Indiana his grandfather would grow a large garden every year. "We liked to walk through the garden and check on the plants whenever we visited. He had to be careful or risk a stern warning from grandpa. Growing up we would always have fresh vegetables from the garden".
Later on in life, Herron majored in biochemistry at Indiana University. After graduation he worked at Eli Lilly for several years as an analytical chemist. While working Herron would always find joy in coming home and working in his own garden. One fall after a large harvest of vegetables he decided to try his hand at saving the seeds from some of his favorite plants. Little did he know what path this would lead to.
In 2008, Herron had harvested heirloom seeds from several of his plants. Using old magazines from his garage he turned each page of the magazines into a seed packet to hold the seeds. Using glue sticks and address labels these were the first packets to be sold from Urban Farmer Seeds. "I had never created a website before so I had little experience with marketing and website design. I used Craigslist and a barebones website to sell the garden seeds the first year. I would come home from work at Eli Lilly and work another 4-5 hours on shipping orders and building the website."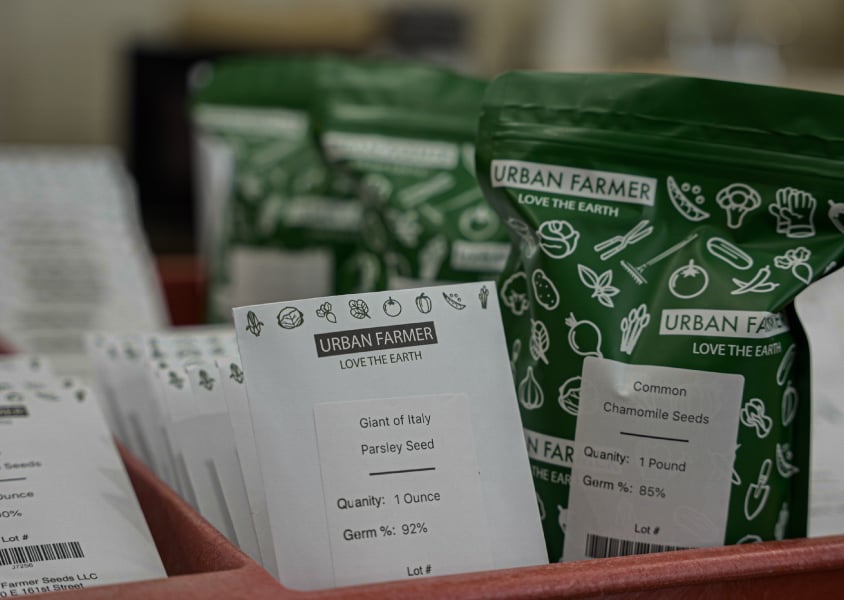 Fast forward 3 years later and Urban Farmer had turned into a full time job for Herron. He was now able to garden, harvest seed and ship orders throughout the United States. The company would grow out of that little farmhouse into a 5 acre farmstead with 5,000 sq.ft. building. "Finding a location that would allow us to grow heirloom vegetables and a building that had the space we needed was a challenge". In 2015 we were growing 40 seed varieties on our farm and would begin to work with local farmers to grow seed stock for us. At this point the magazine seed packets became too hard logistically to make by hand so we worked with a packet company to use a 100% recycled paper that now contains all of our seeds. These are still the seed packets we use to this day. The company has continued to grow over the years because of the dedication to high quality seed and reliable customer service. Urban Farmer Seeds backs its products with 100% guarantee. Urban Farmer has grown from a small startup in a small farmhouse in Indiana to a national and international retailer with over 5 full time and 20 seasonal employees. The company now regularly ships seed to growers and home gardeners across the United States, and regularly supplies seed to over 50 countries around the world.