Organic Kale Seeds
Additional Characteristics
Urban Farmer's selection of organic kale seeds grows best in the cool weather during spring or fall. Its sweet flavor is actually enhanced by a touch of frost. Kale is widely know for its beautiful foliage that adds a delicious crunch to salads or sandwiches. It can be harvested full size or as baby leaves. Our organic kale seeds are easy to grow, making it the perfect addition to any home or market garden.
Organic - A very tender, colorful specialty kale for salad mix and bunching. This variety is a special, refined strain. Its stems are purple and leaves are deep gray-green with purple veins. This flat, noncurled, and tooth-edged kale has a wonderful taste. Red Russian matures medium-tall and leaves are tender compared to other kales.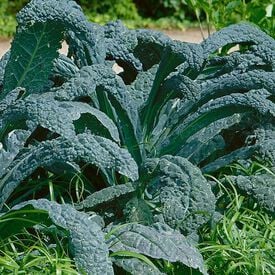 The Lacinato Kale is an old Italian heirloom kale that has very large tender leaves. This favorite is now available in organic seeds! The Lacinato, or also known as Dinosaur kale, Black Magic or Toscano, is popular for home gardening and fresh markets. Its scaly, bumpy leaves are large dark blue-green and very delicious. Pick young for the most tender leaves. The Lacinato produces high yields and can be harvested continually. Certified Organic. Learn more about our organic seeds.