Leeks are cousins of the onion but tend to have a much sweeter and creamy flavor. Used by cooks everywhere for several dishes. Most cultivars are extremely hardy and will tolerate below freezing temperatures.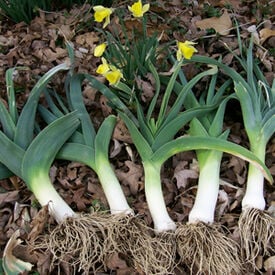 The Large American Flag leek is a non-bulbing leek variety that forms creamy stalks. This leek'15-18" inch stalks are 3" inches wide and are yummy! The Large American is widely adapted and the sweetest member of the onion family.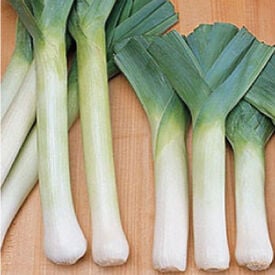 King Richard is a newer leek variety that grows well throughout the United States. This leek variety is a summer type, non-bulbing leek that grows to 12" in length. King Richard has green leaves with white inside. This leek is a very early maturer and is not sufficient for overwinter growing.
The hardy American Flag leek is a good variety for both home and market growers. The attractive uniform leek has blue green leaves and white stalks. The American Flag variety has a very nice sweet flavor. This leek can be enjoyed during fall and winter. Certified Organic. Learn more about our organic seeds.