Melons
Additional Characteristics
Nothing is more addicting than fresh cantaloupe on a summer day. Tasting warm melon straight from the garden is an experience everyone should have. Before you know it you will have eaten the whole thing! Popular melons include Muskmelon, Crenshaw and Honeydews.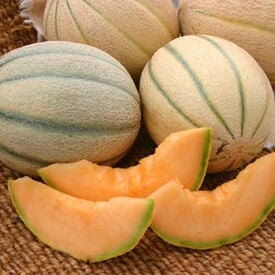 Honey Rock is a great tasting, early maturing heirloom melon with good yields of quality fruit. This melon variety produces compact 3-4 lbs fruits that are early to mature in just 80 days! Honey Rock's flesh is a tender salmon-orange hue with a delicate sweet taste, no wonder it was an AAS winner for 1933! This small melon is a good size for an early melon.
Schoon's Hardshell melon is a large heirloom favorite! This big melon can weigh 5-8 pounds. The slow to ripen thick gray-green skin has a highly flavored orange flesh. The flavor is very sweet and will maintain the taste and texture for long after being harvested. Certified Organic. Learn more about our organic seeds.
Emerald Green Gem is truly an emerald green gem! This early, green skinned melon has a sweet yellow-orange flesh that has a sweet and somewhat spicy flavor! This variety can grow up to 3 pounds.