Purple grapes are one of the easiest and most widely grown fruits in the United States. Purple grapes are known for their sugary flavor. Once established, grapes will provide high yields of mouth watering fruits. Grapes are great eaten fresh, dried or squeezed into wine.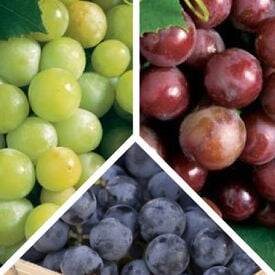 1 red, 1 white, 1 purple grape plant! Enjoy the best of all grapes. Don't know what flavor and color to pick. Pick all 3 with the grape plant mix. Varieties include Concord (purple), Niagara (white), Catawaba (red). All SEEDLESS grape varietals.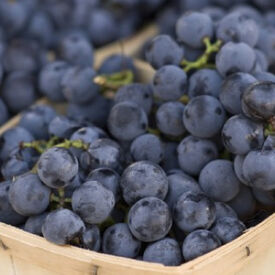 A purple grape that is great for eating fresh or making wine! The grape is a deciduous vine that is used for fruit, wine and shade. A single grapevine produces enough new growth every year to roof an arbor, arch a walkway, or shade over a terrace or deck. The Concord grape variety can be grown in any region of the continental United States. This Concord variety is SEEDLESS.