Spaghetti squash is one of the most fun and incredible squash for the home garden. The winter squash produces flesh that is stringy and very similar to spaghetti noodles. A great substitute for grain pasta.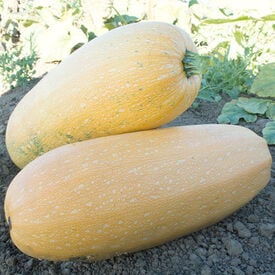 The Goldetti F1 Squash is a cylindrical golden orange winter squash variety with a dry stringy flesh resembling long, thin pasta. These 11 inch long squashes are ready to harvest when the skin becomes hardened and will keep for up to six months. The Goldetti is a wonderful pasta substitute and is best prepared whole in the microwave or baked.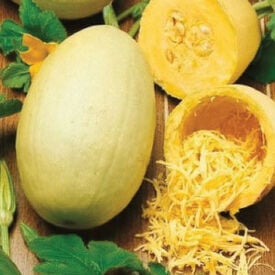 True to its name, the Vegetable Spaghetti Squash allows you to grow your own spaghetti noodles! This bright yellow squash is great to use as a healthy, tasty replacement for "noodles" in various meals. The Vegetable Spaghetti produces its noodles within its flesh inside of itself when cooked.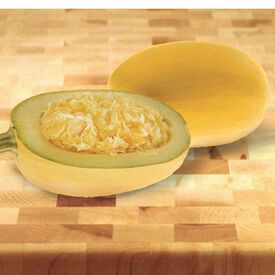 A beautifully consistent spaghetti squash with uniform fruits and high yields. Has a slightly sweet flavor with a nutty aftertaste. Perfect for a pasta alternative. Semibush plants are great for dense plantings for greater yields per acre.