Acorn squash is a winter squash with distinctive longitudinal ridges and sweet, yellow-orange flesh. Acorn squash is most commonly baked, sauteed or steamed. It may be stuffed with rice, meat or vegetable mixtures. The seeds can also be roasted making a great treat.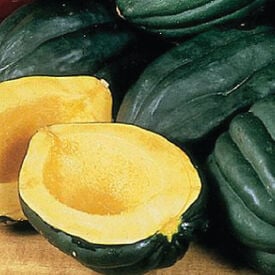 The Table Queen Acorn Squash is a customer favorite winter squash. This variety is a medium sized, acorn shaped, vining type. The flesh of this heirloom acorn is a sweet golden yellow that turns more orange in storage, contrasting with its dark green and ribbed rind. Harvest before frost, leaving part of the stem attached to the fruit.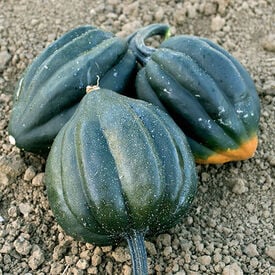 The little Table King Bush Squash is a nice compact winter squash variety that is perfect for a small home garden! This 2 pound fruit is excellent for baking, stuffing or roasting. This little squash is an All-American Selection winner for a reason! The glossy dark green ribbed exterior is a nice contrast with the thick pale orange flesh. The flavor even improves in storage. Certified Organic. Learn more about our organic seeds.
The Cream of the Crop is a white bush-type acorn squash that really is the cream of the crop! This variety is white and on the large side for an acorn, weighing in at 2-3 lb. Cream of the Crop is great picked small and used as a summer squash, or can be left to ripen and used for winter storage. This squash is perfect for those who want to grow a garden in small spaces.