The cayenne pepper is a hot chili pepper used to flavor many dishes. Remains green at maturity and will turn red when harvested. The fruits are generally dried or cut fresh and used as a hot spice in many meals. It is generally rated at 30,000 to 50,000 Scoville Heat Units.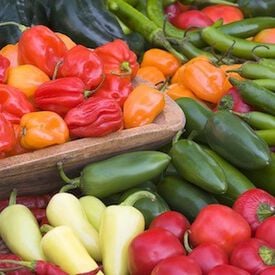 The Hot and Happy Mix is a blend of hot pepper, all colors, shapes and heats. This mix of peppers are bold and adventurous! This assortment of hot peppers includes habaneros, jalapeños, chilies, poblanos, anchos and more! Hot and Happy Mix is perfect for any hot pepper lover!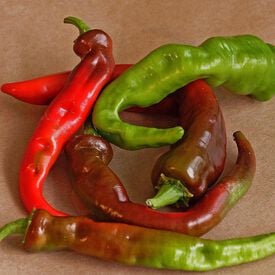 The Cayenne Long Red Thick Pepper is the biggest cayenne pepper you can grow! This variety's pepper grows to 5" long and 1/2" thick and are often curled and twisted. This pepper is great enjoyed fresh or dried for later use! The Cayenne Long Red Thick is a middle of the road hot pepper.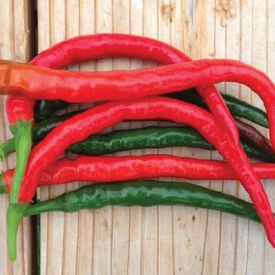 The Cayenne Long Red Slim Pepper is a traditional medium heat cayenne pepper with a great flavor! This variety is a long and thin pepper that produces unbelievably high yields. These peppers will mature red and are wrinkled with a mixture of straight and curly fruits. Cayenne Long Red Slim is excellent for drying, pickling and fresh eating to spice up your chili or salsa. This pepper plant is bushy and reaches 26" tall.