Anaheim peppers are mild chili peppers. The name "Anaheim" derives from Emilio Ortega, a farmer who brought the seeds to the Anaheim, California. Most Anaheim Chilis range from 500 to 10,000 Scoville Heat Units.
The mildly spicy Joe Parker Pepper is a Southwestern style traditional Anaheim that can be harvested green or red! This deliciously crisp pepper quickly changes from green to red and can be eaten at both color stages. The Joe Parker is perfect for stuffing, grilling, roasting or processing. This organic pepper plant produces high yielding semi flattened uniform fruits. Certified Organic. Learn more about our organic seeds.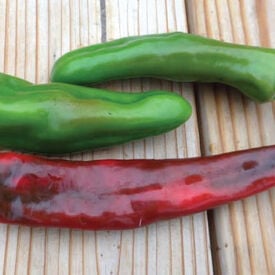 Anaheim Chili is a meaty hot pepper that is great for stuffing. This pepper variety has a mild to medium heat for a chili pepper. Each of these plant produce an abundance of spicy chili peppers that are 5-8" long. Anaheim Chili is great for roasting, stuffing, stews, sauces and eaten raw! A farmer back in the early 1900s bought some of these pepper seeds in Anaheim, California thus giving them the name they have today. Anaheim Chili peppers can be harvested while green or for more spiciness let them turn deep red.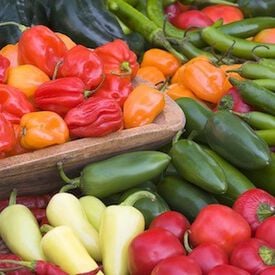 The Hot and Happy Mix is a blend of hot pepper, all colors, shapes and heats. This mix of peppers are bold and adventurous! This assortment of hot peppers includes habaneros, jalapeños, chilies, poblanos, anchos and more! Hot and Happy Mix is perfect for any hot pepper lover!