Bunching onions are perfect for markets and home growing. Bunching onions give your the same taste of onions but faster growing and more versatile. Grow bunching onions closer together and use more of the plant! Great for salads, soups, dips, and other meals.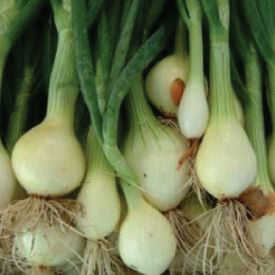 No garden is complete without the Nebuka Evergreen Bunching onion! This variety is a splitting type onion with long, slender white stalks that grow in tight clusters. This onion is an essential to Japanese and Chinese cooking, fresh or cooked, used as a garnish for baked fish, in soups, noodle dishes, or in stir-fries. Nebuka Evergreen Bunching is hardy and cold resistant.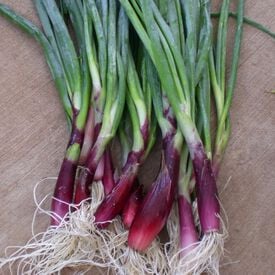 The Scarlet Bandit Onion is a bunching variety that produces a beautiful scarlet red hue with flecks of white, making any salad or dish pop! This bright variety can be planted in either the spring or fall and will overwinter. The scarlet red of the slender bulbs will intensify with cold weather. The Scarlet Bandit can be used like an other bunching onions, or scallions, in several dishes.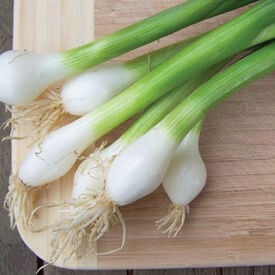 The Tokyo Long Bunching Onion is a tender bunching type, loved by many chefs! This long variety grows an upright single stalk with dark green leaves little, white crisp bulbs. This tender and tasty onion is also heat tolerant.