Fresh Market Cabbage
Additional Characteristics
Fresh eating cabbage is best when eaten close to harvesting. These offer some of the best taste and nutrition from all other cabbage varieties. We have selected varieties that are easy to grow, medium size heads, and crisp flesh.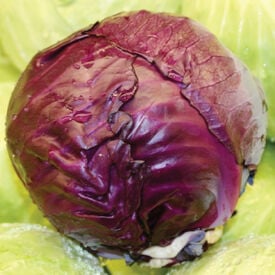 Early and adaptable red cabbage. Great for all gardens! This open-pollinated purple-red cabbage produces dense oval heads weighing 2 to 3 pounds. Certified Organic. Learn more about our organic seeds.
The Green express is a bright green mini cabbage with excellent flavor! This favorite is now available as organic. The early maturing cabbage has a mild flavor and crisp texture that can't be beat. The Green Express can be sown directly in Fall gardens or transplanted in Spring.