Broccoli Raab, Rapini, is not actually broccoli. Grown for its asparagus-like spring shoots. It's tender stems, buds, and flowers have a slightly bitter/spicy/peppery broccoli flavor. Growing in popularity this vegetable is great steamed or lightly sauteed.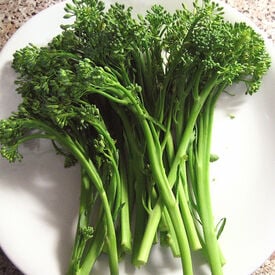 Spring Raab is a sweet baby broccoli! Every part of the erect vigorous plant can be used for cooking, as it has a delicate delicious flavor. The Spring Raab adds texture and fine flavor to cooking. This baby broccoli is high in vitamin C,  A, Calcium, Iron making it the perfect healthy choice! Organic seed available.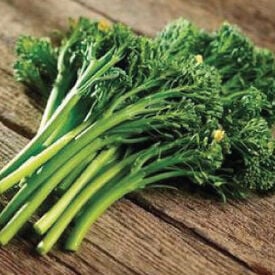 The Aspabroc Baby gets its name from having asparagus stems and raab heads! Aspabroc Baby Broccoli a deliciously sweet broccolini with a peppery taste. Considered a baby broccoli that was developed by Sakata in Japan. Once cooked the flavor is dulled a bit. The entire plant is edible either raw, sauted, steamed or fried. A very healthy treat that contains vitamin C, A, calcium and iron. Great for sauteeing, steaming, roasting and boiling.
Happy Rich Baby is an excellent summer producing baby broccoli. Produces uniform, vigorous, dark-green florets that look like baby broccoli heads. One of the best flavors broccoli flavors with hints of sweetness. Produces generous amounts of side shoots when first floret is pinched out and plants are spaced 12-18" apart.