Shelling Beans
Additional Characteristics
A great market bean that will stand out amongst the crowd! A delicious fresh shell bean for the home garden that is easy to grow. Great shelf life, frozen or canned.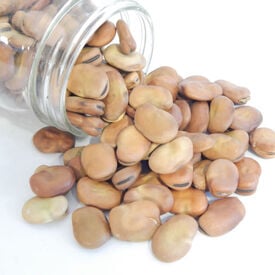 The Broad Windsor fava bean, scientifically known as Vicia faba, is a prominent member of the legume family and has a rich history dating back thousands of years. Originating in the Mediterranean region and known for its versatility and unique taste, it has gained popularity worldwide. These beans are a type of broad bean, characterized by their large, flat, and slightly curved pods. The plant itself can reach a height of 3 to 4 feet and typically takes around 80 to 90 days to mature. In terms of appearance, Broad Windsor fava beans have large, broad pods that encase the beans. The pods are typically 6 to 8 inches long and are a vibrant green color. The beans themselves are quite large and have a distinctive earthy and nutty flavor, making them a favorite in various culinary dishes. When it comes to growing conditions, these beans thrive in cool weather and are often planted in early spring or late summer. They require well-drained soil and benefit from full sun exposure. Broad Windsor fava beans are known for their disease resistance, particularly against common bean diseases such as rust and aphids. On average, they can yield approximately 1,000 to 1,200 pounds per acre when properly cultivated with adequate spacing between plants, typically about 6 to 8 inches apart. Their versatility in both taste and growth conditions makes them a valuable addition to any garden or farm.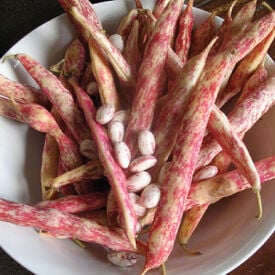 The Vermont Cranberry Shell bean is an incredible bean variety that can be used as a snap, shell or dry bean. Cranberry Shell stores exceptionally well. Maroon colored beans are decorated with darker red, cranberry markings. This variety dates back to the 1800s and is well-suited to short-season, cool summer climates.
Tongue of Fire is a great market bean with a vibrant red and cream speckled color! This bush bean is not only beautiful, but it is a very tasty bean! The fresh shell beans are large and round shaped. 6-7" stringless pods are great young. An Italian bean that can be eaten fresh, frozen or canned.