Tall Utah, Organic Celery Seeds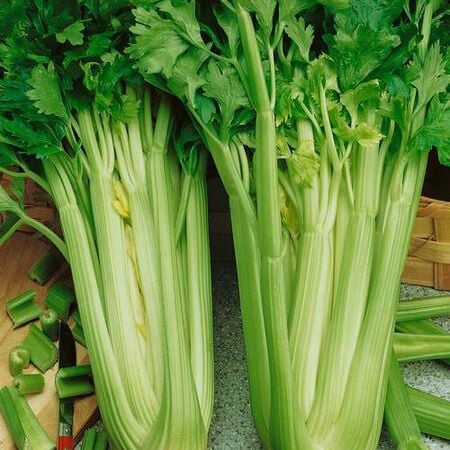 Key Attributes

Sun:
Full Sun / Partial Shade


Days To Maturity (# Days):
90

Botanical Name:
Apium graveolens
Tall Utah is very dependable celery variety for home gardeners and market growers alike! This celery is a favorite that now comes in organic seeds. Tall Utah has dark green stalks that pacts in a crisp delicious flavor. Start seeds when weather has warmed up so that the crop matures in fall. 
Certified Organic
.
Learn more about our organic seeds.
Key Attributes

Sun:
Full Sun / Partial Shade


Days To Maturity (# Days):
90

Botanical Name:
Apium graveolens
Product Details
Botanical Name
Apium graveolens
Additional Characteristics
Market Production
Seeds Per Pound
1,004,000
Sun
Full Sun / Partial Shade
Germination
11,12,13,14,7,8,9,10
Days To Maturity (# Days)
90
Growing Instructions
Learning Download: How to Grow Celery
Celery tastes better grown from the garden, but to grow celery requires patience and skill. Celery is a low-calorie, high-nutrient vegetable used for its seeds, stalks and leaves. The vegetable is most often used as a garnish or a healthy snack.
Before Planting: Celery seeds are very small and difficult to plant. To aid in planting, mix the seeds with a little bit of sand and then sprinkle the mixture over soil.
Planting: Sow 10–12 weeks before transplanting outdoors. Sow 2-3 seeds per cell, ⅛" deep. Keep soil moist and temperatures 70°F if possible. Seedlings emerge in 2–3 weeks and then temperature can be reduced to 60°F. Do not harden off celery plants by lowering temperatures! Give more sunlight and wind conditions slowly over 7-10 days until ready for outdoor conditions. Do not expose to weather below 50°F.Transplant 10-12 week seedlings outdoors when weather is warm and settled (late spring). Set plants 6–8″ apart in rows 24–36″ apart. Irrigate to keep soil moist.
Watering: Make sure celery is planted in the lowest area of the garden, as it requires lots of water.Do not let the soil dry out, indoors or out. Celery needs constant supply of water to give best flavor and yield.
Fertilizer: Celery requires a fertile soil with a pH range of 6.0–7.0. Add compost and mulch around the
plants to help retain moisture. Sometimes, celery stalks will split if they do not receive enough moisture.
Days to Maturity: Celery can take up to 140 days before it is ready to harvest.
Harvesting: Cut stalks when desired size. Stalks may be blanched if desired by hilling up with soil or by placing paper collars around plants. Harvest in morning when heat is at a minimum. May be dunked in cold water to bring temperature down if harvested in warm temperatures. Store roots at 32°F with 98–100% relative humidity. Celery will store for 1–2 months. We suggest blanching for best eating quality celery.
Tips: In rare instances contact with the foliage can result in a severe rash. When working with this crop on hot, sunny days, we recommend wearing long sleeves and long pants and washing any exposed skin surfaces as soon as possible after contact.
Our Seed Promise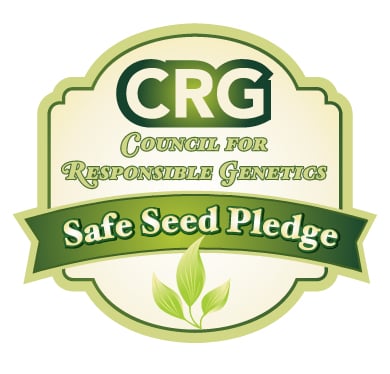 "Agriculture and seeds" provide the basis upon which our lives depend. We must protect this foundation as a safe and genetically stable source for future generations. For the benefit of all farmers, gardeners and consumers who want an alternative, we pledge that we do not knowingly buy or sell genetically engineered seeds or plants.
The mechanical transfer of genetic material outside of natural reproductive methods and between genera, families or kingdoms, poses great biological risks as well as economic, political, and cultural threats. We feel that genetically engineered varieties have been insufficiently tested prior to public release. More research and testing is necessary to further assess the potential risks of genetically engineered seeds. Further, we wish to support agricultural progress that leads to healthier soils, to genetically diverse agricultural ecosystems, and ultimately to healthy people and communities.
To learn more about the "Safe Seed Pledge" please visit www.councilforresponsiblegenetics.org.