Susie Orange Black Eye Vine, Thunbergia Seeds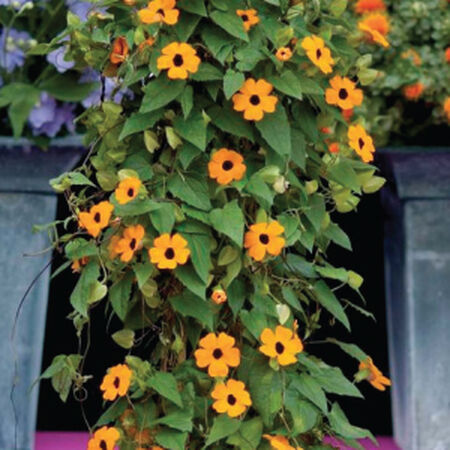 The Susie Orange Black Eye Vine Thunbergia is a stunning bright orange Black-Eyed Susan variety that grows very vigorously. This variety produces an abundance of beautiful large flowers. The Susie Orange Black Eye Vine quickly covers a trellis against a sunny fence, or look spectacular growing up an obelisk in a container.
Product Details
Botanical Name
Thunbergia alta
Growing Conditions
Trellis,Hanging Baskets
Zones
1,2,3,4,5,6,7,8,9,10
Growing Instructions
Learning Download: How to Grow Thunbergia
Thunbergia is native to eastern Africa, and it is a climbing plant. Since it is a vining plant, it can grow well in fence rows, on trellises, mailbox posts, in a hanging container or up lampposts.
Before Planting: The seeds are sown directly into the garden, but they can be started indoors six to eight weeks before the last frost. Amend soil with compost prior to planting.
Planting: Wait until the last frost has passed before directly seeding. Thunbergia seeds will take a while to germinate, up to 25 days.
Watering: Thunbergia does not tolerate drought well, so this is something to look out for especially in you are growing them in containers.
Fertilizer: Adding a general-purpose fertilizer every 4 to 6 weeks.
Days to Maturity: Thunbergia flowers will bloom from summer through fall.
Harvesting: Since they are a vining pant, these flowers are not great to harvest and display indoors.
Tips: These plants grow well in full sun or light shade, however, if you are planting them in a hotter region, it is best to make sure the plants receive afternoon shade.
Our Seed Promise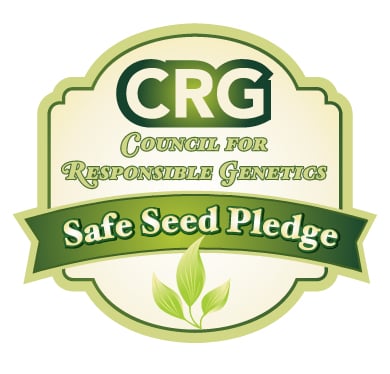 "Agriculture and seeds" provide the basis upon which our lives depend. We must protect this foundation as a safe and genetically stable source for future generations. For the benefit of all farmers, gardeners and consumers who want an alternative, we pledge that we do not knowingly buy or sell genetically engineered seeds or plants.
The mechanical transfer of genetic material outside of natural reproductive methods and between genera, families or kingdoms, poses great biological risks as well as economic, political, and cultural threats. We feel that genetically engineered varieties have been insufficiently tested prior to public release. More research and testing is necessary to further assess the potential risks of genetically engineered seeds. Further, we wish to support agricultural progress that leads to healthier soils, to genetically diverse agricultural ecosystems, and ultimately to healthy people and communities.
To learn more about the "Safe Seed Pledge" please visit www.councilforresponsiblegenetics.org.