Stiff Goldenrod, Solidago Seeds
The Stiff Goldenrod Solidago produces stunning, large and slightly flat golden flowers that are bee attracting powerhouses! These beautiful golden flowers bloom later in summer and into early fall. In fall, the leaves will turn a beautiful shade of red.
Product Details
Botanical Name
Solidago rigida
Growing Instructions
Learning Download: How to Grow Solidago
In America, Solidago or goldenrod is oftentimes considered a roadside weed which people tend to rid from their gardens and consider it to be an invader. However, Europeans often cultivates it on purpose as an ornamental plant along borders.
Before Planting: Plant the seeds in flats and press them lightly into the soil, but do not cover the seeds because they require light to germinate. Keep the seeds at 70 degrees, and they should sprout within 21 days.
Planting: When you transplant them to the garden, space them 12 to 18 inches apart. The plant prefers full sun, but in hotter climates it can tolerate partial shade.
Watering: Solidago needs little, if any, watering once it is established.
Fertilizer: It is very easy to grow and fertilizations should be avoided.
Days to Maturity: Solidago blooms at the end of summer and into early fall.
Harvesting: These plants are typically not harvested to use in bouquets, but drying the leaves and flowers can be used as a tea to treat things like arthritis or aches and pains.
Tips: Gardeners should divide goldenrod every four to five years. You can take cuttings of the plant and plant them elsewhere in your garden in the spring.
Our Seed Promise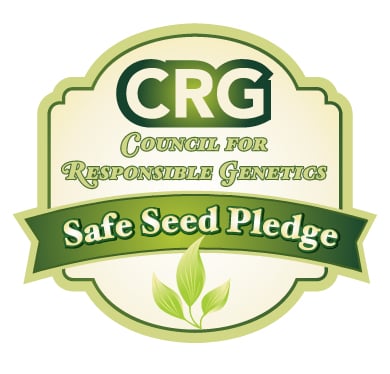 "Agriculture and seeds" provide the basis upon which our lives depend. We must protect this foundation as a safe and genetically stable source for future generations. For the benefit of all farmers, gardeners and consumers who want an alternative, we pledge that we do not knowingly buy or sell genetically engineered seeds or plants.
The mechanical transfer of genetic material outside of natural reproductive methods and between genera, families or kingdoms, poses great biological risks as well as economic, political, and cultural threats. We feel that genetically engineered varieties have been insufficiently tested prior to public release. More research and testing is necessary to further assess the potential risks of genetically engineered seeds. Further, we wish to support agricultural progress that leads to healthier soils, to genetically diverse agricultural ecosystems, and ultimately to healthy people and communities.
To learn more about the "Safe Seed Pledge" please visit www.councilforresponsiblegenetics.org.