An ideal choice for cut flowers. Shasta Daisy is a favorite for cut flowers due to its strong 2 foot stems. Alaska has the largest flowers of the white, daisy flowered mums. The easy to grow plants are trouble free bloomers from mid to late summer.
Product Details
Botanical Name
Chrysanthemum maximum
Growing Instructions
Learning Download: How to Grow Daisies
Commonly, daisies are thought of having the old-fashioned blooms of white petals with a yellow center, but daisies can grow in all shapes, sizes and colors.
Before Planting: Daisies can be seeded directly into the garden, but if this is done, don't expect blooms until the following spring.
Planting: To plant the seeds, loosen the soil and plant seeds 1/8 inch deep. The seeds can be planted even when a light frost may still occur.
Watering: Make sure daisies receive at least 1 inch of water per week.
Fertilizer: Just prior to blooming, fertilize the Daisies with a fertilizer that is high in phosphorous, which will enhance the blooming period and produce better flowers.
Days to Maturity: Daisies will bloom until fall.
Harvesting: Wait for the flowers to dry out and, if harvesting the seeds, do not deadhead the blooms. Cut the flowers and hang them upside down to dry. Once the flowers have dried, crush the heads and remove the seeds.
Tips: Once blooms finally fade, usually in mid-fall, cut the Daisies back to the ground. To prevent disease, do not overhead water the Daisies.
Our Seed Promise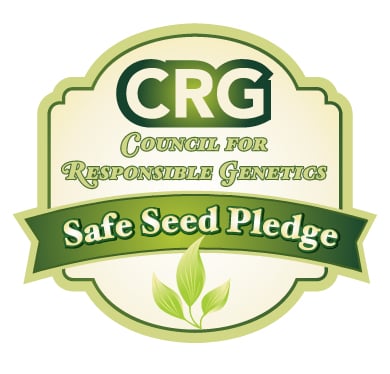 "Agriculture and seeds" provide the basis upon which our lives depend. We must protect this foundation as a safe and genetically stable source for future generations. For the benefit of all farmers, gardeners and consumers who want an alternative, we pledge that we do not knowingly buy or sell genetically engineered seeds or plants.
The mechanical transfer of genetic material outside of natural reproductive methods and between genera, families or kingdoms, poses great biological risks as well as economic, political, and cultural threats. We feel that genetically engineered varieties have been insufficiently tested prior to public release. More research and testing is necessary to further assess the potential risks of genetically engineered seeds. Further, we wish to support agricultural progress that leads to healthier soils, to genetically diverse agricultural ecosystems, and ultimately to healthy people and communities.
To learn more about the "Safe Seed Pledge" please visit www.councilforresponsiblegenetics.org.