Ruby Moon Hyacinth, Bean Seeds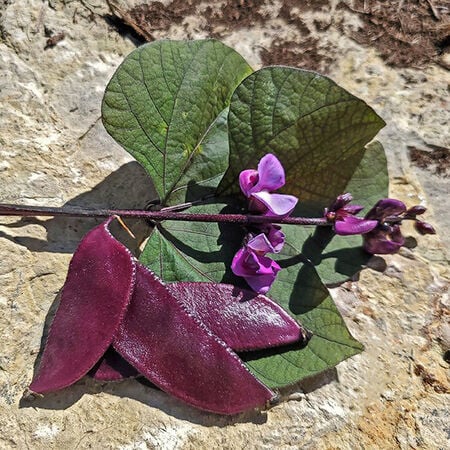 Key Attributes



Days To Maturity (# Days):
100-120

Botanical Name:
Dolichos Lablab
Ruby Moon Hyacinth Bean, also known as Lablab purpureus or simply Hyacinth Bean, is a unique and versatile legume known for its vibrant appearance and culinary potential. This heirloom variety is named for its striking ruby-red pods and dark green foliage, making it an attractive addition to both ornamental and edible gardens. Ruby Moon Hyacinth Beans are typically grown as annuals, but in tropical regions, they can be perennial.
In terms of taste, the young pods and seeds of Ruby Moon Hyacinth Bean are edible and have a mild, nutty flavor similar to green beans. They can be consumed both raw and cooked. However, it's important to note that mature seeds contain toxic compounds and should not be eaten without proper processing.
Ruby Moon Hyacinth Beans have a rich history, with their cultivation dating back centuries, primarily in Asia and Africa. They are valued not only for their culinary uses but also for their ability to fix nitrogen in the soil, enhancing soil fertility. This plant is categorized as a warm-season annual and typically matures in about 60-90 days, depending on growing conditions.
The size of the Ruby Moon Hyacinth Bean plant can vary, but it generally reaches a height of 6-10 feet, making it suitable for trellises or fences. When it comes to yield, you can expect approximately 10-15 pounds of pods per plant or around 800-1,200 pounds per acre under ideal conditions. These beans thrive in full sun and well-drained soil, and they require a warm climate to grow successfully. Adequate moisture and support for climbing are essential for a bountiful harvest. With proper care, Ruby Moon Hyacinth Beans can be a delightful addition to your garden, offering both visual appeal and a tasty, nutritious addition to your plate.
Key Attributes



Days To Maturity (# Days):
100-120

Botanical Name:
Dolichos Lablab
Product Details
Plant Height
Up to 20 feet
Botanical Name
Dolichos Lablab
Additional Characteristics
Trellis Garden
Breed
Heirloom,Open-pollinated
Germination
11,12,13,14,6,7,8,9,10
Days To Maturity (# Days)
100-120
Our Seed Promise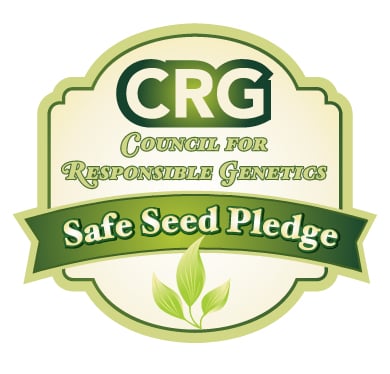 "Agriculture and seeds" provide the basis upon which our lives depend. We must protect this foundation as a safe and genetically stable source for future generations. For the benefit of all farmers, gardeners and consumers who want an alternative, we pledge that we do not knowingly buy or sell genetically engineered seeds or plants.
The mechanical transfer of genetic material outside of natural reproductive methods and between genera, families or kingdoms, poses great biological risks as well as economic, political, and cultural threats. We feel that genetically engineered varieties have been insufficiently tested prior to public release. More research and testing is necessary to further assess the potential risks of genetically engineered seeds. Further, we wish to support agricultural progress that leads to healthier soils, to genetically diverse agricultural ecosystems, and ultimately to healthy people and communities.
To learn more about the "Safe Seed Pledge" please visit www.councilforresponsiblegenetics.org.