Rainbow Blend, Organic Swiss Chard Seeds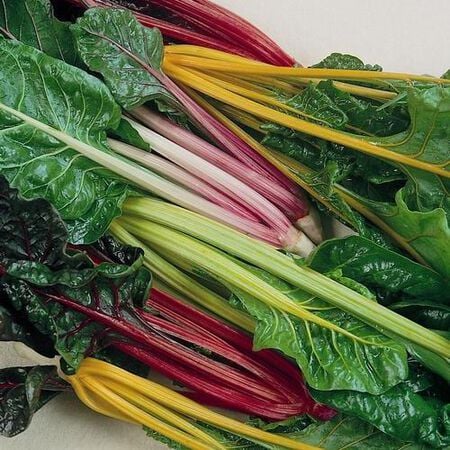 Key Attributes

Sun:
Full Sun / Partial Shade


Days To Maturity (# Days):
60

Botanical Name:
Beta vulgaris
The Rainbow Blend Swiss Chard will brighten up any dish! The beautifully colored and delicious Rainbow Blend is a mixture of different red, orange, pink, yellow and white chard. These stunning leafy greens are a staple to any garden or meal. The glossy dark green leaves have a crisp texture that can't be beat. 
Certified Organic
.
Learn more about our organic seeds.
Key Attributes

Sun:
Full Sun / Partial Shade


Days To Maturity (# Days):
60

Botanical Name:
Beta vulgaris
Product Details
Botanical Name
Beta vulgaris
Additional Characteristics
Organic Seeds,Salad Garden Vegetables
Sun
Full Sun / Partial Shade
Days To Maturity (# Days)
60
Growing Instructions
Learning Download: How to Grow Chard
Swiss chard is another way to eat nutrient-rich, leafy greens. Chard is a member of the beet family, just without the bulb, and it comes in a variety of different hues. The color does not affect the taste of the Swiss chard.
Before Planting: Soil pH should be between 6-7. Cool and mild weather is preferred, though chard has some heat tolerance. Germinate seed between 70-85°F. Seedlings will tolerate light frosts, and mature plants are hardy to moderate frosts. It may overwinter in mild areas.
Planting: Sow beginning mid-spring and on into midsummer (fall where winter is mild). Sow seed in a cold frame or indoors 4-6 weeks before transplanting out after heavy frosts become infrequent. Sow seeds ½" deep, 2 seeds per cell, remove weakest plant when true leaves appear. Transplant out 4″ apart in rows 12-18″ apart. For Bunching, sow about 4-6 seeds/ft., ½" deep, rows 18–24″ apart. Thin to 2-3 plants per foot. Cut for bunching at any stage and new leaves will continue to form. For Salad Mix, sow every .5-1″, 12-24 seeds/ft. Clip in about 4-5 weeks for tender baby greens.
Watering: water moderately. If the plant doesn't receive enough water, it may become bitter to the taste.
Fertilizer: Mulch with grass clippings or compost to add extra nutrients to the plants' growth.
Days to Maturity: Swiss chard grows fast, and it is usually ready to harvest four to six weeks after planting.
Harvesting: Clip mature leaves individually for home garden or for bunching for market. New leaves will grow back for multiple harvests. For baby leaf, clip young plants just above the soil. Plants will grow back for multiple harvest.
Tips: Once a leaf is cut, a new one grows in its place.
Bunching Seed Rate: 1 oz./300′, 3¼ oz./1,000′, 4½ lb./acre at 6 seeds/ft. in rows 24″ apart.
Baby Leaf Seed Rate: 1 oz/45′, 1⅓ lb./1,000′, 39 lb./acre at 40 seeds/ft. in rows 18″ apart.
Our Seed Promise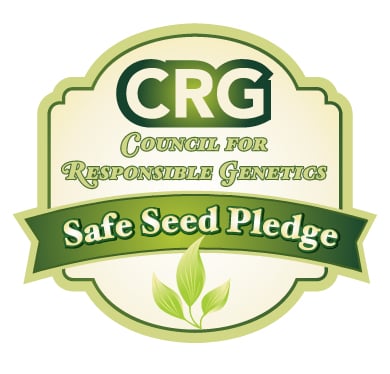 "Agriculture and seeds" provide the basis upon which our lives depend. We must protect this foundation as a safe and genetically stable source for future generations. For the benefit of all farmers, gardeners and consumers who want an alternative, we pledge that we do not knowingly buy or sell genetically engineered seeds or plants.
The mechanical transfer of genetic material outside of natural reproductive methods and between genera, families or kingdoms, poses great biological risks as well as economic, political, and cultural threats. We feel that genetically engineered varieties have been insufficiently tested prior to public release. More research and testing is necessary to further assess the potential risks of genetically engineered seeds. Further, we wish to support agricultural progress that leads to healthier soils, to genetically diverse agricultural ecosystems, and ultimately to healthy people and communities.
To learn more about the "Safe Seed Pledge" please visit www.councilforresponsiblegenetics.org.