Queen of Night, Container Flowers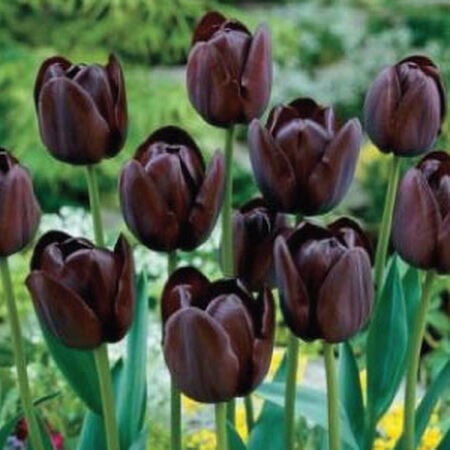 Key Attributes

Single Late TulipHeight: 22-24"Description: Dark blooms that mix well with pastel tulipsBloom Time: Late SpringColor: Marron to BlackFoliage Color: Green
Height: 22-24"Description: Dark blooms that mix well with pastel tulipsBloom Time: Late SpringColor: Marron to BlackFoliage Color: Green
Tulips are the most popular and most recognized flower in home gardens today. Tulips are available in many shapes, sizes, colors and seasons of bloom. No other flower rewards the gardener more than beautiful tulips. Plant these this fall, and next spring, watch your neighbors turn their heads.
Water in fall to help good root growth before ground freezes. Do not water in excess during summer when bulb is dormant.
Care: Use low nitrogen fertilizer in fall and spring. After blooming leave foliage and water weekly. This will help with root growth. When leaves turn yellow and die back foliage may be removed. Placing mulch over plant during winter will help keep plant dormant and protected.
Cut Flowers:
Tulips make excellent cut flowers. Cut as many as needed and bring indoors to enjoy their beauty and scent.
Key Attributes

Our Seed Promise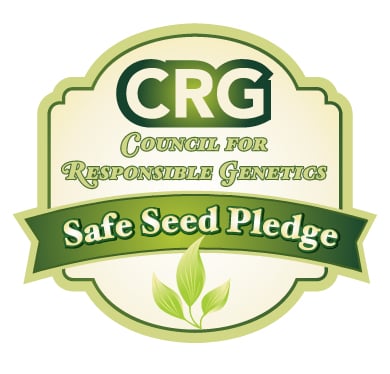 "Agriculture and seeds" provide the basis upon which our lives depend. We must protect this foundation as a safe and genetically stable source for future generations. For the benefit of all farmers, gardeners and consumers who want an alternative, we pledge that we do not knowingly buy or sell genetically engineered seeds or plants.
The mechanical transfer of genetic material outside of natural reproductive methods and between genera, families or kingdoms, poses great biological risks as well as economic, political, and cultural threats. We feel that genetically engineered varieties have been insufficiently tested prior to public release. More research and testing is necessary to further assess the potential risks of genetically engineered seeds. Further, we wish to support agricultural progress that leads to healthier soils, to genetically diverse agricultural ecosystems, and ultimately to healthy people and communities.
To learn more about the "Safe Seed Pledge" please visit www.councilforresponsiblegenetics.org.