Precision Garden Seeder, Seeders
The perfect row crop planter for gardens and small farming! This precision garden seeder is a tool that takes the guesswork out of planting any row crop. Here's how it works: install one of the precision seed plates that best fits your seed, then adjust the depth of planting on the ground opener, and then set your 30" long row marker for the desired width, then fill the seed hopper with seeds, then begin pushing in your well tilled soil, that's it. The results will speak for themselves when days later you look at your garden and see all the row crops come out of the ground at the same time; perfect, making you the envy of all gardeners! Standard Seed plates included with the 1001-B are: 18100 Sweet Corn, 18101 Radish, Leeks, Spinach, 18102 Carrots, Lettuce, Turnips, 18103 Beans, Small Peas, 18104 Jumbo Peas, 18105 Beets, Okra, Swiss Chard. Optional Seed Plate Kit: #60010, includes 18108 Light Carrot, 18109 Broccoli, 18110 Cucumbers, 18112 Popcorn, 18124 Lima beans. Accessories available: Seed Plate storage case and Side-dress Fertilizer attachment that goes on in place of the removable row marker.
Our Seed Promise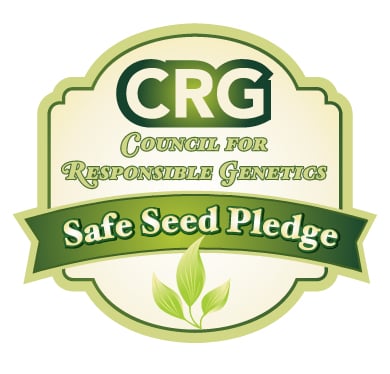 "Agriculture and seeds" provide the basis upon which our lives depend. We must protect this foundation as a safe and genetically stable source for future generations. For the benefit of all farmers, gardeners and consumers who want an alternative, we pledge that we do not knowingly buy or sell genetically engineered seeds or plants.
The mechanical transfer of genetic material outside of natural reproductive methods and between genera, families or kingdoms, poses great biological risks as well as economic, political, and cultural threats. We feel that genetically engineered varieties have been insufficiently tested prior to public release. More research and testing is necessary to further assess the potential risks of genetically engineered seeds. Further, we wish to support agricultural progress that leads to healthier soils, to genetically diverse agricultural ecosystems, and ultimately to healthy people and communities.
To learn more about the "Safe Seed Pledge" please visit www.councilforresponsiblegenetics.org.