Organic Garden Dust Seed, Pest and Disease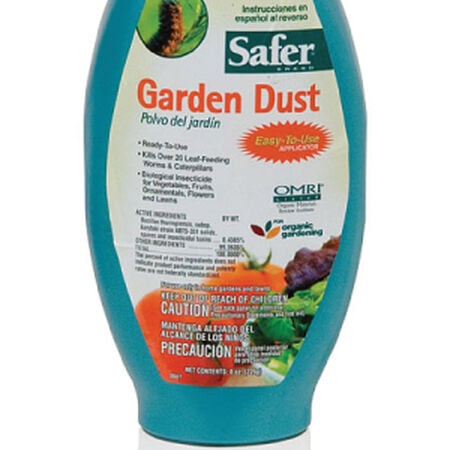 Kills over 20 Leaf-Feeding Worms and Caterpillars! This pest control product is very effective in killing caterpillars and worms, including corn earworm, bollworm, armyworm, diamondback moth, green cloverworm, hornworms, loopers, melonworm, pickleworm, tomato fruitworm, tobacco budworm, salt marsh caterpillar, mimosa webworm, and imported cabbageworm!
The Safer® Brand Garden Dust utilizes bacillus thuringiensis (var. kurstaki) which, once ingested by the wayward pest, kills them within a few days. It is recommended that this product be applied late in the afternoon or on cloudy days since B.t. breaks down in the sunlight. When the B.t. is ingested by the worm, it works as a gut rot poison that makes the worm stop feeding. The caterpillar or worm will stop feeding immediately and die within days of malnutrition.
Our Seed Promise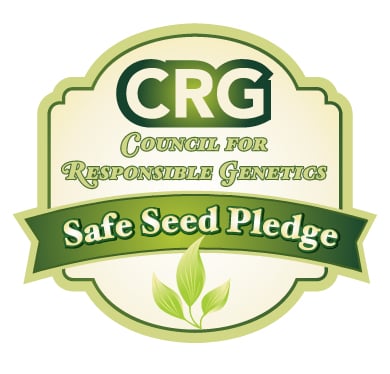 "Agriculture and seeds" provide the basis upon which our lives depend. We must protect this foundation as a safe and genetically stable source for future generations. For the benefit of all farmers, gardeners and consumers who want an alternative, we pledge that we do not knowingly buy or sell genetically engineered seeds or plants.
The mechanical transfer of genetic material outside of natural reproductive methods and between genera, families or kingdoms, poses great biological risks as well as economic, political, and cultural threats. We feel that genetically engineered varieties have been insufficiently tested prior to public release. More research and testing is necessary to further assess the potential risks of genetically engineered seeds. Further, we wish to support agricultural progress that leads to healthier soils, to genetically diverse agricultural ecosystems, and ultimately to healthy people and communities.
To learn more about the "Safe Seed Pledge" please visit www.councilforresponsiblegenetics.org.