Organic Asparagus Fertilizer, Fertilizers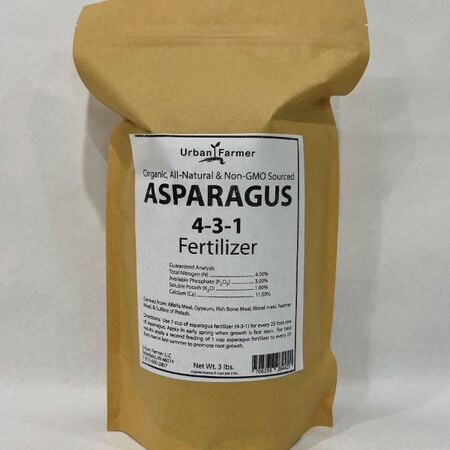 Organic, All-Natural & Non-GMO Sourced Asparagus Fertilizer (4-3-1)!
The Urban Farmer Asparagus Fertilizer will increase asparagus yields, size, health and taste. This 4-3-1 (NPK) fertilizer ratio is specially formulated to get the most out of your asparagus. This fertilizer gives the asparagus exactly what it needs at the right time. Our asparagus fertilizer also contains several other beneficial vitamins, minerals and microbes for improving soil health.
Directions: Use 1 cup of asparagus fertilizer (4-3-1) for every 25 foot row of asparagus. Apply in early spring when growth is first seen. For best results apply a second feeding of 1 cup asparagus fertilizer to every 25 foot row in late summer to promote root growth. 1 pound will feed 15 foot row of asparagus for an entire season.
How much asparagus fertilizer do I need? 45' Row of Asparagus: 3 lbs 90' Row of Asparagus: 6 lbs 360' Row of Asparagus: 24 lbs
Derived from: Alfalfa Meal, Gypsum, Fish Bone Meal, Blood Meal, Feather Meal, & Sulfate of Potash. Guaranteed Analysis: Total Nitrogen (N) ..................... 4.00% Available Phosphate (P2O5)..... 3.00% Soluble Potash (K2O) ............... 1.00% Calcium (Ca) ............................. 11.00% Sulfur (S) ................................... 5.20%
Our Seed Promise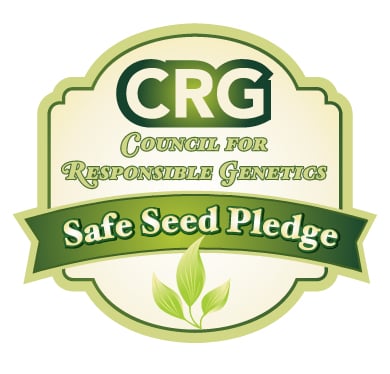 "Agriculture and seeds" provide the basis upon which our lives depend. We must protect this foundation as a safe and genetically stable source for future generations. For the benefit of all farmers, gardeners and consumers who want an alternative, we pledge that we do not knowingly buy or sell genetically engineered seeds or plants.
The mechanical transfer of genetic material outside of natural reproductive methods and between genera, families or kingdoms, poses great biological risks as well as economic, political, and cultural threats. We feel that genetically engineered varieties have been insufficiently tested prior to public release. More research and testing is necessary to further assess the potential risks of genetically engineered seeds. Further, we wish to support agricultural progress that leads to healthier soils, to genetically diverse agricultural ecosystems, and ultimately to healthy people and communities.
To learn more about the "Safe Seed Pledge" please visit www.councilforresponsiblegenetics.org.