Jiffy Professional Grower Seed Starting Kit! A great seed starting kit with 72 individual spots. Start all your important vegetables indoors for an early start to the gardening season. Works great for tomatoes, peppers, herbs, and any other vegetables you wanna get an early start on. This seed starting kit comes with 72 cells, 72 jiffy peat moss pellets, protective bottom water tray, and top tray to trap warm sun rays creating a green house effect! Jiffy Professional Greenhouse Kit contains 11" x 22" plastic tray, 72 Jiffy-7 pellets and plastic dome. This item does not qualify for free shipping due to its size.
Select Size:
1 Greenhouse
Our Seed Promise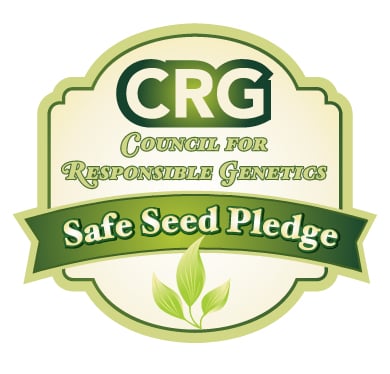 "Agriculture and seeds" provide the basis upon which our lives depend. We must protect this foundation as a safe and genetically stable source for future generations. For the benefit of all farmers, gardeners and consumers who want an alternative, we pledge that we do not knowingly buy or sell genetically engineered seeds or plants.
The mechanical transfer of genetic material outside of natural reproductive methods and between genera, families or kingdoms, poses great biological risks as well as economic, political, and cultural threats. We feel that genetically engineered varieties have been insufficiently tested prior to public release. More research and testing is necessary to further assess the potential risks of genetically engineered seeds. Further, we wish to support agricultural progress that leads to healthier soils, to genetically diverse agricultural ecosystems, and ultimately to healthy people and communities.
To learn more about the "Safe Seed Pledge" please visit www.councilforresponsiblegenetics.org.