Colorful Mix, Cauliflower Seeds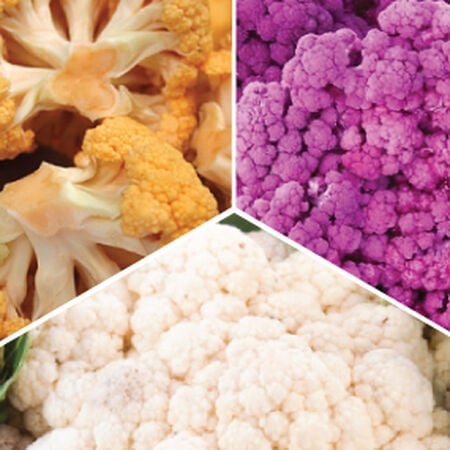 Key Attributes

Sun:
Full Sun / Partial Shade


Days To Maturity (# Days):
65

Botanical Name:
Brassica oleracea
The Colorful Mix is a fun blend of different colorful cauliflower varieties. Have fun with this colorful mix of cauliflower varieties. This is a great mix to plant and sale at farmers markets. People will marvel at the bright colors! The varieties include Cheddar, Graffiti, and Snowball.
Key Attributes

Sun:
Full Sun / Partial Shade


Days To Maturity (# Days):
65

Botanical Name:
Brassica oleracea
Product Details
Botanical Name
Brassica oleracea
Fruit Color
White,Purple,Mix,Orange
Sun
Full Sun / Partial Shade
Days To Maturity (# Days)
65
Growing Instructions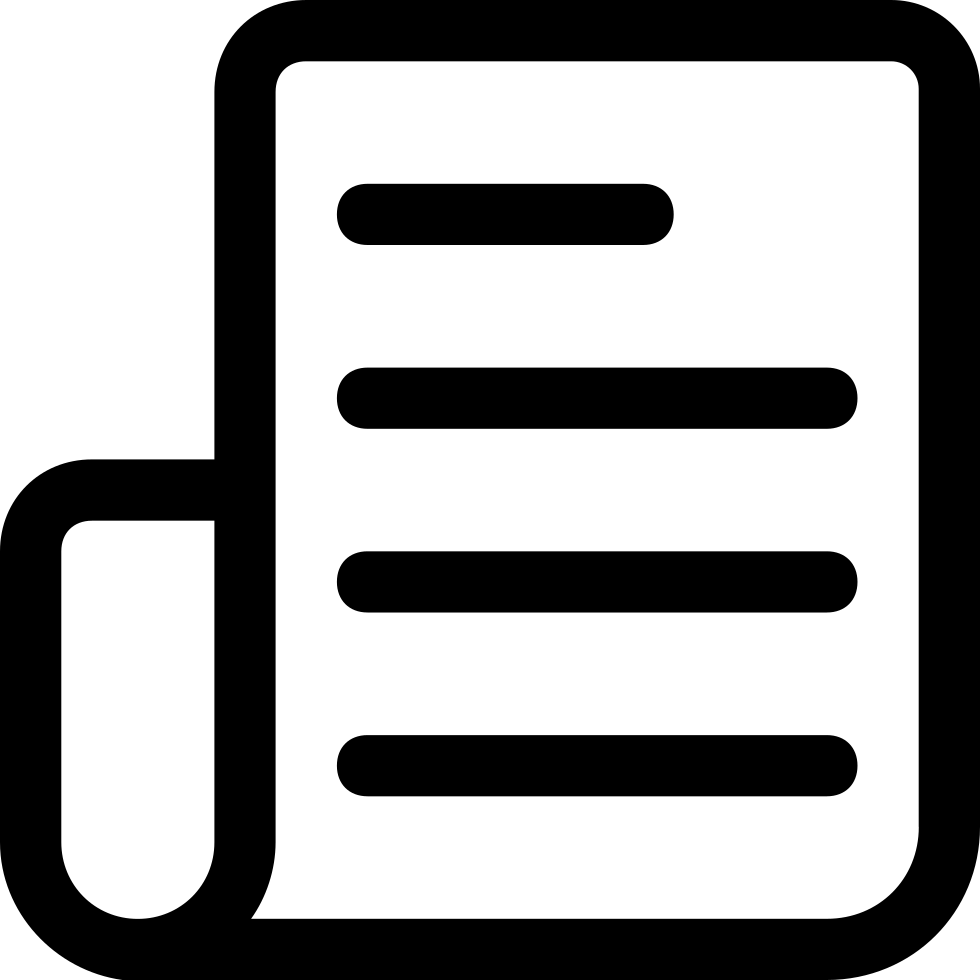 Learning Download: How to Grow Cauliflower
Cauliflower is a relative to broccoli and cabbage, and it is a cool-season vegetable, which makes it best for a fall harvest. It is a bit pickier than its green-budded relative, as it does not tolerate excessive heat or cold very well. Cauliflower requires consistent temperatures of around 60 degrees.
Before Planting: Cauliflower prefers a well-drained and very fertilize soil. Aim for a pH of 7.0 with consistent moisture throughout the growing season. Irrigate regularly for best results. Cauliflower grows best in spring and fall crops.
Planting: Use early and midseason varieties for Spring growing. Sow 2 seeds ½" depth in each cell. Germinate at 70°F and then grow at 60°F thereafter. Wait for true leaves and leave best looking seedling per cell. Seedlings should be ready to transplant in 4–5 weeks. Do not wait too long to plant seedlings outdoors. 5 weeks is the oldest the transplants should be to avoid stressing the plant. Harden plants carefully by gradually increasing cold before transplanting out, 18″ between plants and 24–36″ between rows. Use midseason and storage varieties for Fall growing. Start seedlings as above in late spring and transplant to the garden in Summer. Sow 2-3 seeds 18″ apart, ½" deep, rows 24–36″ apart, thinning to one plant in each group.
Watering: Cauliflower requires consistent soil moisture. Water 1 to 1.5 inches each week.
Fertilizer: Prior to planting cauliflower seeds, add compost to the soil. This prevents "buttoning," which is when a cauliflower produces smaller, button-shaped heads rather than a large, full head. For best growth, use a nitrogen-high fertilizer.
Days to Maturity: The plant should be ready to harvest about a week or two after blanching. (See each variety for days to maturity)
Harvesting: Harvest heads when desired size is obtained but before the curds becomes loose and bitter. Store at 32°F and 95% relative humidity for 2–3 weeks.
Tips: When small white curds begin to develop, gather up exterior leaves and wrap around heads and tie with a rubber band, this is called blanching. Blanching will help protect heads from direct sunlight and keep curds white rather than turning pale yellow with direct sunlight.
Our Seed Promise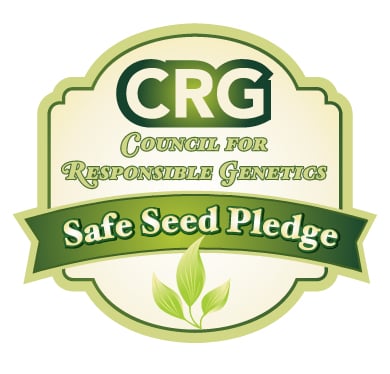 "Agriculture and seeds" provide the basis upon which our lives depend. We must protect this foundation as a safe and genetically stable source for future generations. For the benefit of all farmers, gardeners and consumers who want an alternative, we pledge that we do not knowingly buy or sell genetically engineered seeds or plants.
The mechanical transfer of genetic material outside of natural reproductive methods and between genera, families or kingdoms, poses great biological risks as well as economic, political, and cultural threats. We feel that genetically engineered varieties have been insufficiently tested prior to public release. More research and testing is necessary to further assess the potential risks of genetically engineered seeds. Further, we wish to support agricultural progress that leads to healthier soils, to genetically diverse agricultural ecosystems, and ultimately to healthy people and communities.
To learn more about the "Safe Seed Pledge" please visit www.councilforresponsiblegenetics.org.