1 Gal. Smart Pots, Containers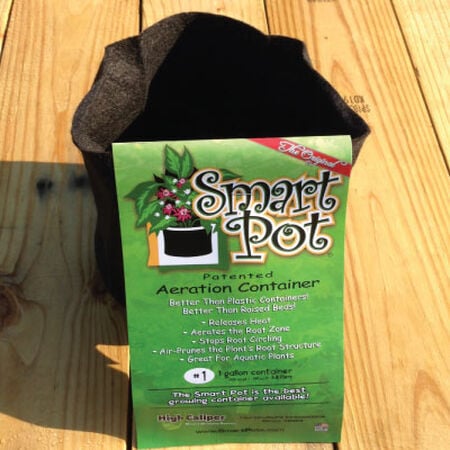 Innovative fabric that allows plant roots to breath and increases yields and health! By taking advantage of the benefits of traditional plastic gardening containers while eliminating the shortcomings, Smart Pots truly live up to their name! The patented Smart Pot is a soft-sided, fabric container that has the rigidity to hold its shape and can even support large trees. These soft growing containers allow more air to reach the growing medium and roots, improving drainage and keeping the root system from overheating on hot days. Plant roots also benefit from their natural tendency to grow into soft surfaces like the Smart Pot, becoming thick and healthy instead of circling the inside of the pot and becoming root-bound.
Great for hydroponics, vegetables, perennials, pocket planting and more. Using over 25 years of research and feedback from commercial agriculture tree farmers and nurserymen, the Smart Pot is convenient solution over other growing containers. The Smart Pot is a fabric allows for high aeration increasing the healthy and vitality of plants. Easy to fold when not in use and made with a UV stabilizer. These pots will easily last 5 years, depending on location and use.
Unlike traditional plastic containers where roots are only on the perimeter circling, Smart Pots let the roots grow out to the side of the pot where they come in contact with air. The root tips then dry out and cause the plant to create more roots laterally, filling the container with more roots. The aeration also releases heat, up to 30 degrees more than traditional plastic. With a cooler container, roots will grow even in hotter temperatures as well as keeping microorganism life alive and working. Even though the Smart Pot is completely porous, there are no large holes. This allows the consumer to use any medium they wish without worrying about particles leaching out. The Smart Pot is reusable and easy to clean making it environmental and convenient. They can even be put in the wash machine with bleach.
Our Seed Promise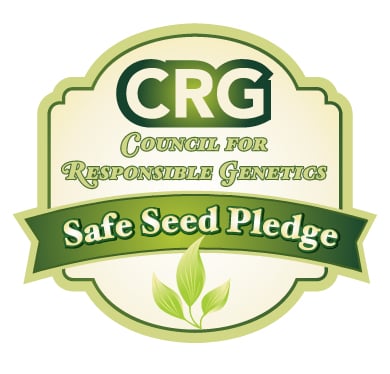 "Agriculture and seeds" provide the basis upon which our lives depend. We must protect this foundation as a safe and genetically stable source for future generations. For the benefit of all farmers, gardeners and consumers who want an alternative, we pledge that we do not knowingly buy or sell genetically engineered seeds or plants.
The mechanical transfer of genetic material outside of natural reproductive methods and between genera, families or kingdoms, poses great biological risks as well as economic, political, and cultural threats. We feel that genetically engineered varieties have been insufficiently tested prior to public release. More research and testing is necessary to further assess the potential risks of genetically engineered seeds. Further, we wish to support agricultural progress that leads to healthier soils, to genetically diverse agricultural ecosystems, and ultimately to healthy people and communities.
To learn more about the "Safe Seed Pledge" please visit www.councilforresponsiblegenetics.org.