Organic Watermelon Seeds
Additional Characteristics
Fresh watermelons are a staple of 4th of July cookouts all the way until Labor Day! Know for their delicious taste, and refreshing taste on a hot summer day. We offer both Icebox, Picnic and Seedless (triploid) watermelons that grow great anywhere.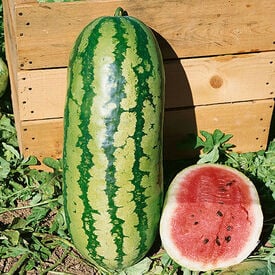 The Jubilee Watermelon is a sun-loving, dark green striped watermelon with a very sweet red flesh that is perfect for a picnic or hot summer day! The Jubilee can grow to be 25-40 pounds. This watermelon is also disease resistant making it perfect for home gardens. Enjoy this large beauty all summer long! Certified Organic. Learn more about our organic seeds.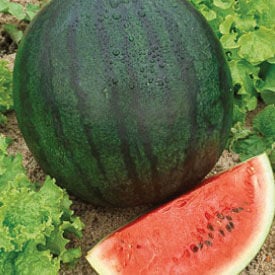 The Bush Sugar Baby Watermelon is an excellent smaller sized watermelon that is perfect for the home garden and roadside stands. This crowd favorite is now available in organic seeds! This sweet, scarlet "icebox" melon can grow on space-saving vines only 3-1/2' long. The Sugar Baby watermelons save space in the garden and in the refrigerator with their tiny size. The only thing big about this little round watermelon is the wonderful flavor - rich, juicy and incredibly sweet! Conventional Seed Available.