Urban Farmer offers a variety of Cosmos flower seeds for home gardeners and market growers. Our cosmos have been hand selected for vibrant color, bloom length and overall vigor. Cosmos are great for cutting, beds and borders, and the pollinator gardens.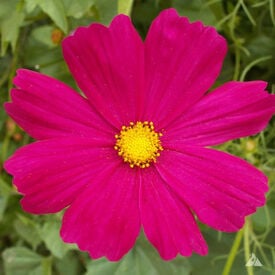 The Dazzler Cosmo is a real garden dazzler as it is a great variety that produces beautiful red blooms that make a bold statement. This unique cosmo variety has blunt petals and bright yellow centers.
The beautiful Cupcake Mix Cosmos resembles delicate, papery fluted cupcake wrappers that make for the perfect vase display! Cupcakes Mix is as showy as Double Click with lighter-weight blooms held upright on stems. The light-colored, finely-pleated blooms float above the foliage, reminding us of Degas' paintings of ballerinas. A small percentage of flowers have lovely, tufted centers. Ht. 40-50". Ht. 40-50".