Organic Tomato Seeds
Additional Characteristics
Shop a wide variety of tomato seeds and plants. Several colors, sizes, shapes and taste you are sure to find some tomatoes that will work for you. Choose from cherry, beefsteak, slicers, roma and more!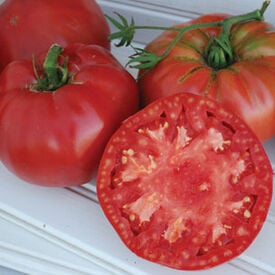 The Pruden's Purple Tomato, also known as Prudence, is considered to be one of the best heirloom beefsteak tomatoes in America! This tomato variety is an indeterminate, potato leaf plant that has heavy yields of 10-16 ounce, dark pink fruits. Pruden's Purple produces only very few seeds and is widely adapted.
We believe this is the best tasting tomato available and even beats Brandywine for flavor. Productive plants produce large crops of 12 oz. fruits. Excellent tomato flavor. This strain was obtained from J. D. Green in Tennessee and is thought to be from the Cherokee Nation. Plants are indeterminate, but seldom grow more than 4' tall.